Now that the fun winter holidays are over, we are still looking at a few more months of snow and cold. What are we going to do with that time? Living in the midwest, we are known for being hardy and can handle the harsh winters. If you live in La Crosse, Wisconsin, you know that the fun doesn't stop just because of a little snow. So as we venture into the new year, keep these things in mind to help beat that cabin fever boredom. Here are eight wildly fun things to do in La Crosse Wisconsin this winter.
Skiing & Snowboarding
Mt. La Crosse is a popular ski hill in La Crosse, Wisconsin. Mt. La Crosse has 18 different runs and trails, including Wisconsin's longest run, the Mileway. With three double chair lifts and a tow rope, you can hit all the runs you want in a day, with ease! Skiers and snowboarders alike will love this hill. The variety of runs, plus a terrain park can make for a fantastic winter weekend. They're open Thursdays through Sundays, and offer rentals on all gear, plus special chair lift and rental deals for your convenience!
Cross-Country Skiing
If you're looking for a little less risky way to get those skis on, Wisconsin is flooded with trails you can use for cross country skiing. Skiing cross-country is one of the best aerobic exercises you can find, especially in the middle of winter. Low-impact, sustained movements help awaken your muscles and heart, making this an enjoyable way to burn calories, while seeing the outdoors! Try out your cross-country skis on one of the areas best trails, including;
Hixon Forest and La Crosse River Marsh Trails
Snowmobiling
The La Crosse area features over 650 miles of interconnected trails for snowmobilers to enjoy.  If you're REALLY into it, there are several snowmobiling clubs for visitors and veterans alike. It's important to check here for trail conditions, openings, and closings so you can safely enjoy your snowmobile trek!
Sledding
The midwest may not have massive mountain ranges, but we do have hills! Plenty of them. That are great for sledding. AS we know, the days are short, and the sun goes down early. Don't fret because Van Riper Park in Onalaska lights up their sledding hill, so you can have fun well after the sun goes down! Deer Wood Park in Holmen, WI, has many sledding hills for your enjoyment as well. Bring the family and have some good winter fun racing down the hill.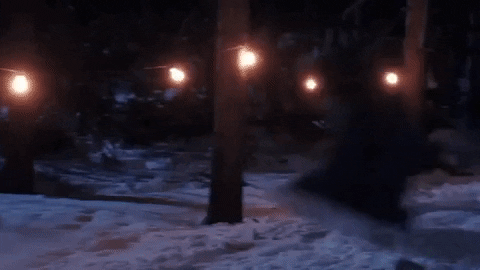 Snowshoeing
For a low-key, low-impact outdoor winter activity, try snowshoeing! It can be a really fun way to explore the La Crosse trails on foot, without trudging through the deep snow. You can visit Goose Island Park, McGilvray "7 Bridges" Road or La Crosse River State Trail. Most of the trails that you can find cross-country skiing trails, also have trails for snowshoeing as well. Call first for rentals.
Ice Skating
On the mild winter days, where you think you could get away with a "light" jacket, taking the family to the outdoor skating rink can be an absolute blast. La Crosse has three outdoor rinks in the area. Copeland Park Oktoberfest Shelter, Poage Park, Riverside Park are all open for the season, but they may have closures due to weather. Keep a close watch here and plan your outing!
Ice Fishing
One thing that spans all seasons is fishing, and in the midwest, we do it rain or shine, snow or freeze. Wisconsin has some great ice fishing at Lake Onalaska and Lake Neshonoc. Grab some friends, a thermos full of coffee, and some bait and hit the ice! Check out Island Outdoors on French Island or Schafer's River Rentals on Lake Onalaska.
Brewery Tour
If you're less of an outdoor winter person, and more of an indoor winter person, we got you. There are a few breweries in La Crosse that can make for a super fun brewery tour on a brisk Saturday afternoon. Starting at the tippy top and working your way down, you can hit all three, no problem! Start at Pearl Street Brewery, where they have a constantly rotating list of about 16 beers on tap at all times. For $8 you can get a tour of their facility, one free fill in your take-home pint glass, and a BOGO voucher for local bars and restaurants! You can't beat that. After you've experienced Pearly Street, head south and you'll hit 608 Brewery. They have a finely curated selection of 12 beers on tap. Most of which come in a 5, 10, 12, or 16 oz. pour, which is perfect for a quick stop on a brewery tour! Last but not least, located in historic downtown La Crosse, is Turtle Stack Brewery. Focused on variety and perfecting their brews, their circulating 9 beers on tap are sure to wow you. Cheers!
Join your fellow hardy winter warriors this winter at any of these fun spots. First American Roofing wishes everyone a safe and warm winter this year, and we wish you a happy 2023!